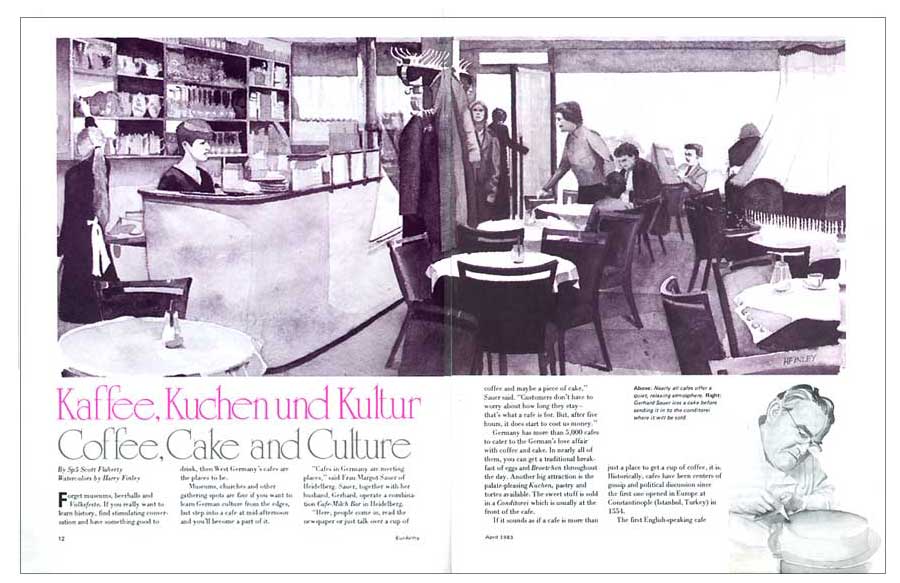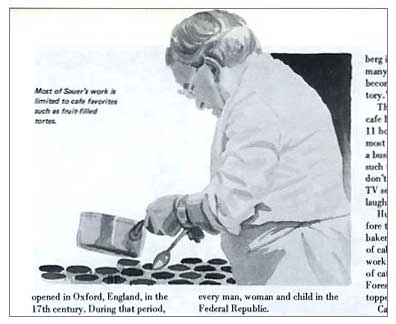 Watercolors
Café Sauer
Heidelberg, Germany
Because I had eaten breakfast here almost every Saturday for years, and
enjoyed coffee and pastry with a friend later the same day (at usually the same table, second
from the bottom, far right), the writer of the article thought we could best explain café
culture through Mr. and Mrs. Sauer's kingdom of heavenly smells and tastes.
(A fancier, less gemütlich - friendly - one replaced it after Mr. Sauer died.)
Mr. Sauer, above, made the pastry and ice cream every morning in the back.
Mrs. Sauer commanded the front end - she's the lady marching left in the center of the top picture.
Look at the small painting of Mr. Sauer (yes, "sour" in English) in the lower right corner of the
top page spread. He's squeezing topping onto a Torte through a funnel he folded from a piece of paper.
This non-pastry chef - me - imagined pros used fancy equipment.
Not when a coffee filter will do the job.
See the person partly hidden by the counter at left?
That's Silke, a waitress from north Germany whose portrait I painted.
< back | NEXT sample illustrations >
Copyright 2010 Harry Finley